No matter how big or small your booth size, we have tables to fit your exact needs. Our commercial grade wood tables will suit your trade show booth specifications.
Tables can be ordered in two heights:  Standard height (30") or Counter height (42")
Available Table Sizes:
2x4'
2x6'
2x8'
30"x8' Banquet Tables
30" Round Cocktail Tables
60" Round Tables (banquet table size)
Crescent Serpentine Tables
Select table skirting and coverings to compliment your corporate branding when you place your order. Order items online through the Exhibitor Kit.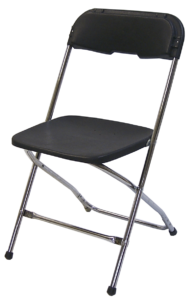 A selection of chairs and stools is available for your booth space. Choose from our standard folding chair, or upgrade to our upholstered armchair. Padded counter stools with a supportive back rest are also available for extra comfort.
Stools should be ordered for seating when ordering Counter height tables.
You will find order forms in the show Exhibitor Kit.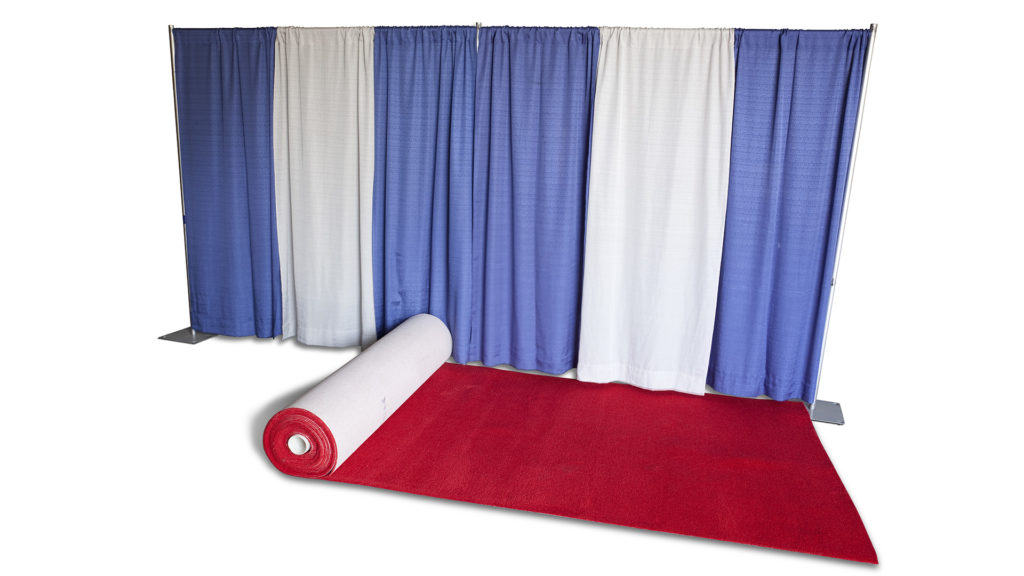 From elegant black to tie-dyed, Art Craft Display draping is available in a variety of heights and colors.
Our drape panels are available in the following lengths:  3', 8', 12' and 16'
All of our draping is flame-retardant and can be used to create beautiful backdrops, section off booth spaces, or hide unsightly areas.
Aluminum and steel hardware for draping can be ordered to accommodate panels up to 16' in height.
Typically, the show promoter will establish the color scheme for the show, which includes the back drape, side drape, and hardware for your booth.
If your booth does not include drape, please look in the Exhibitor Kit for the online ordering forms.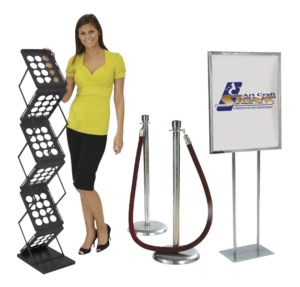 Art Craft Display can offer a variety of accessories to elevate your booth spaces. We have the following pieces to compliment your booth:
Literature racks
Bag holders
Easels
Chrome sign frames
Tackboards
Hygiene barriers
Touch-free sanitizing dispensers
Garment Racks
Rope & Stanchions
Waste Baskets
Our comprehensive list can be found in the Exhibitor Kit.
Trade Show Furnishings Gallery